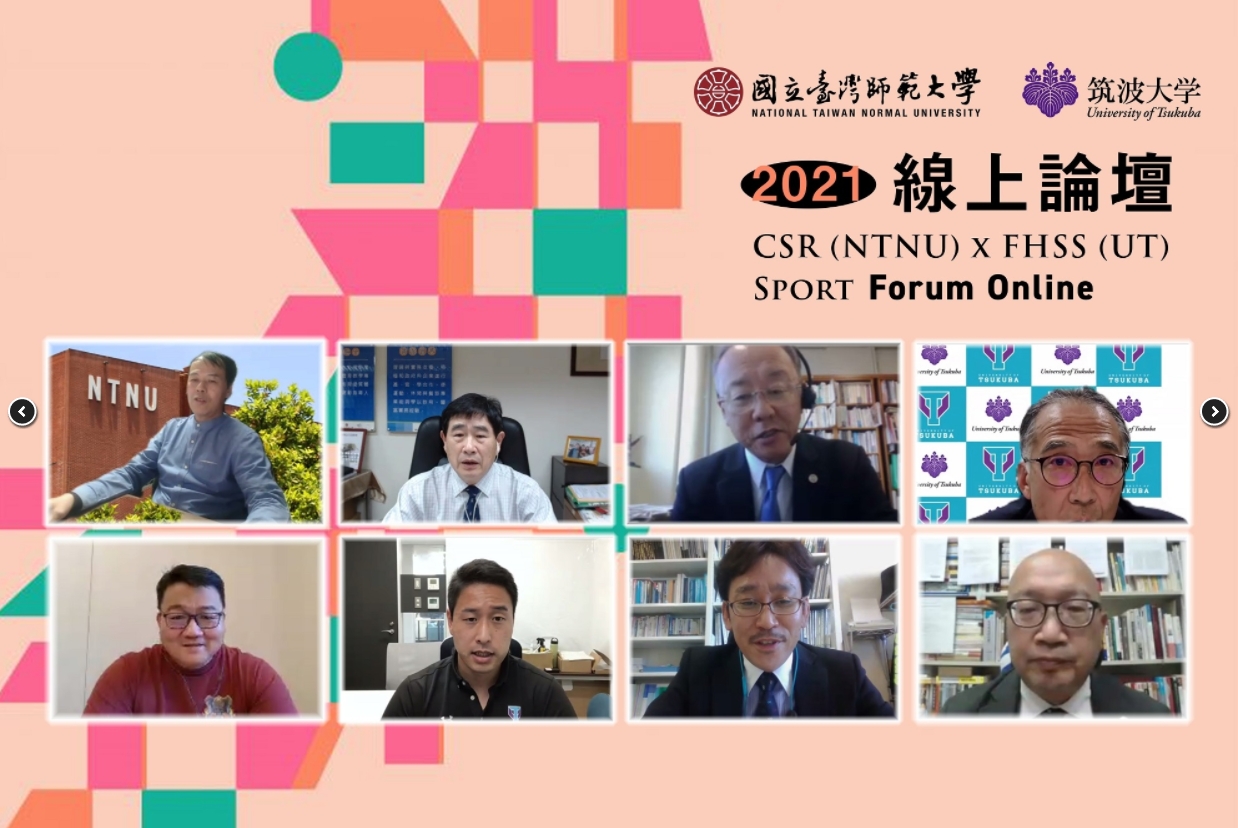 The College of Sports and Recreation (CSR) of National Taiwan Normal University (NTNU) and the Faculty of Health and Sport Sciences (FHSS) of the University of Tsukuba (UT) in Japan hosted an international forum online on October 28th,2021. FHSS and CSR shared the valuable experiences regarding "The talent cultivation and participation of athletes for Tokyo 2020 Olympics" with faculty members and students from both institutions online to avoid the obstruction of the pandemic of COVID-19 and to continue the academic cooperation.
In the beginning, UT Special Adviser to the President, Professor Shimizu Satoshi and CSR Dean Li-Kang Chi both mentioned that CSR and the Faculty of Health and Sport Sciences of UT has established a partner school bond since 2010. Professor Shimizu introduced UT initiatives related to the Tokyo 2020 Olympics; UT not only cultivated the athletes who participated in the competition but also supported the preparation for Tokyo 2020 Olympics. Dean Chi stated that the athletes related to UT and NTNU were chosen as the representatives, they performed well and won the medal in the competition; he believed it is a great pleasure to organize this event and hopes to have more opportunities to cooperate with each other in the future.
More than one hundred and fifty people attended the online forum. Besides the Deans of both universities, person in charge of international exchange between UT and NTNU, Professor Fukasawa Koyo, NTNU's Chairperson for Department of Physical Education and Sport Sciences, Professor Ching-Ping Lin, NTNU's Chairperson for Department of Athletic Performance, Professor Chia-Jung Lee, and NTNU's Director for Graduate Institute of Sport, Leisure and Hospitality Management, Professor Tien-Chin Tan, participated in the forum as well.
The forum invited Professor Sengoku Yasuo from UT's Faculty of Health and Sport Sciences to share his research on training and coaching science in swimming. Professor Sengoku is not only the head director of UT's swimming team but also a coach who has participated in joint training with Taiwan swimmers, such as Kuan-Hung Wang, who is studying in NTNU's Department of Physical Education. Through scientific principles, new technologies, and analysis, UT's swimming team has been able to reach great result and perform a high level in the competition.
Professor Matsuo Hirokazu from UT's Faculty of Health and Sport Sciences focused on the system to support student athletes. Professor Matsuo reported that there are 44 sports club activities in UT, the University provides programs to dispatch coaches to teams and information on games and results of the teams online. He said that UT is currently working on creating the best school sport programs, trying to elevate student athletes' well-being and the value of school sports in order to create a positive impact upon the community.
During the CSR Presentation session, Professor Tsung-Min Hung from NTNU's Department of Physical Education and Sport Sciences discussed how psychological services assists the Chinese Taipei Shooters in Tokyo 2020 Olympics. Professor Hung suggested that the sport science support and services should place greater emphasis on working closely with coaches to improve the career of the national team athletes.
Mr. Da-Te Huang, Coach from NTNU's Department of Athletic Performance and Professor Po-Hsiu Lin from NTNU's Graduate Institute of Sport, Leisure and Hospitality Management, were also invited to share the experience of the practice of information-collecting and tactical strategy for the Olympics. The appropriate competition strategies, tactics, and practices won Mr. Huang's student, Wen-Hui Chen, a bronze medal in the women's 59kg and 64kg weightlifting at Tokyo 2020 Olympics.
The forum not only allowed faculty members to share and exchange their experience and thought on sport sciences, sport psychology, and sports coaching, but they also proposed the potential for future academic cooperation and research. FHSS Dean Nishiyasu Takeshi praised both universities for presenting inspiring speech and expressed his gratitude to all the participants and organizers join the forum. Both institutions look forward to improving the cooperation continuously.