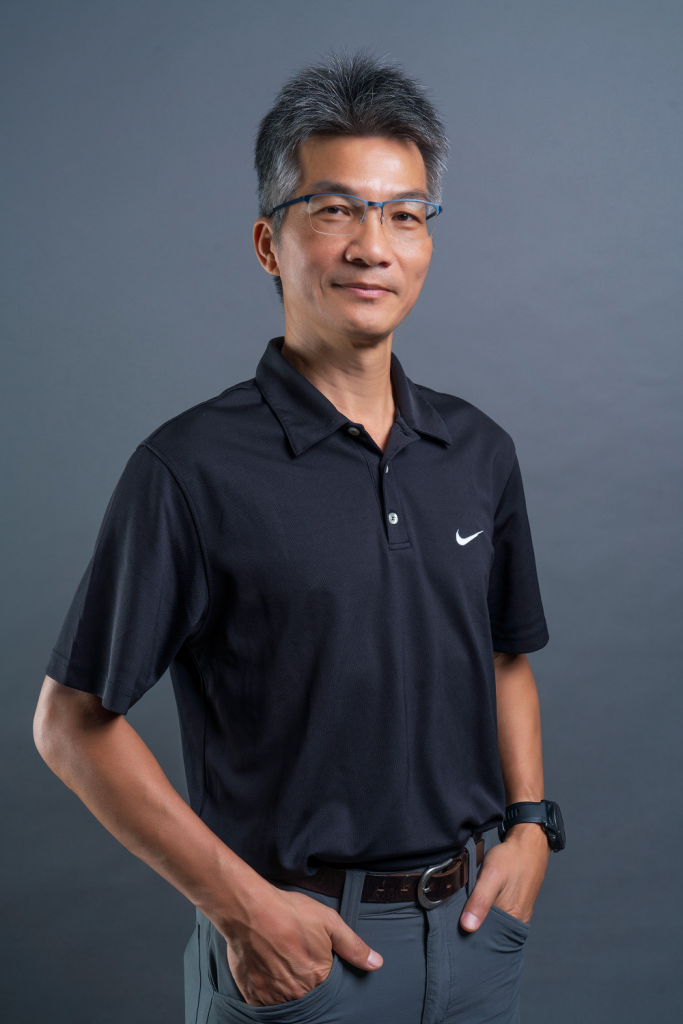 Name
Education
Specialty
Tel
Fax
Mail
Current Job
Ho-Seng Wang
Doctor of Physical Education, National Taiwan Normal University
Exercise Physiology, Tennis
02-7749-3187
02-3365-2738
t08019@ntnu.edu.tw
Dean of College of Sports and Recreation, NTNU
Professor of Department of Physical Education and Sport Sciences, NTNU
Vice President, Chinese Taipei University Sports Federation
Professional Performance
Ministry of Education Projects
2021-2022:女性運動員運動科學支援先導研究
Ministry of Science and Technology Projects
2021-2022:能量膠攝取頻率對長距離跑步表現之影響
2020-2021:睡眠限制與咖啡因增補對耐力運動表現的影響
2019-2020:支鏈胺基酸增補對下坡跑後肌肉激素-irisin及肌肉損傷與合成指標之效應
2017-2018:下坡跑誘發肌肉損傷對肌肉激素-irisin及肌肉合成指標之效應
2016-2017:短期咖啡因增補對前期高血壓男性有氧運動後踝臂脈波傳導速率及血壓之效應
2015-2016:老化與性別差異對長距離路跑賽事表現的效應
2012-2013:性別差異與咖啡因攝取在有或無延遲性肌肉酸痛下對等長收縮肌力與肌肉疲勞的效應
2011-2012:不同離心運動及其重複效果對血管功能的影響
2011-2012:高齡者休閒與運動參與之再社會化機制研究-網球單雙手反拍擊球對停經後婦女橈骨遠端骨密度及骨含量之效應
2008-2009:不同強度游泳運動與運動後低血壓反應關係之研究
1999-2000:月經週期對無氧閾值及運動時生理反應的影響
Journal Article
蘇有鵬、王鶴森* (2019)。七星山小油坑步道健行之能量消耗評估:穿戴式裝置的準確性。體育學報。
曾竣瑋、洪巧菱、趙曉涵、洪聰敏、王鶴森* (2019)。不同急性運動類型對BDNF及干擾控制之影響。體育學報。
Trevor C. Chen, Tsung‐Jen Yang, Min‐Jyue Huang, Ho‐Seng Wang, Kuo‐Wei Tseng, Hsin‐Lian Chen & Kazunori Nosaka. (2019). Damage and the repeated bout effect of arm, leg and trunk muscles induced by eccentric resistance exercises. Scandinavian Journal of Medicine and Science in Sports, 29(5), 725-735. doi:10.1111/sms.13388
Chen, H.Y., Chen, Y.C., Tung, K, Chao, H.H. & Wang, H.S.* (2019). Effects of caffeine and sex on muscle performance and delayed onset muscle soreness after exercise-induced muscle damage: a double-blind randomized trial. Journal of Applied Physiology. DOI: 10.1152/japplphysiol.01108.2018. [Epub ahead of print]
Min-Jyue Huang, Kazunori Nosaka, Ho-Seng Wang, Kuo-Wei Tseng, Hsin-Lian Chen, Tai-Ying Chou & Trevor C. Chen. (2019). Damage protective effects conferred by low-intensity eccentric contractions on arm, leg and trunk muscle. European Journal of Applied Physiology, 109(5), 1055-1064. doi:10.1007/s00421-019-04095-9
Hung, C.L., Tseng, J.W., Chao, H.H., Hung, T.M. & Wang, H.S.* (2018) Effect of acute exercise mode on serum brain-derived neurotrophic factor (BDNF) and task switching performance. Journal of Clinical Medicine, 7(10), 301.
Hsin-Shih Lin, Ho-Seng Wang, Hung-Ta Chiu, Kuang-You B. Cheng, Ar-Tyan Hsu and Tsang-Hai Huang (2018). Structural and Biomechanical Adaptations to Free-Fall Landing in Hindlimb Cortical Bone of Growing Female Rats. Journal of Sports Science and Medicine, 17(2), 188-196.
Conference Paper
Monograph
Other Professional Performance
1.Excellence in athletics with administrative support
To cultivate athletes and elevate their performance to win international games with the support of administrative units and sport sciences research.
To establish a complete system for teachers as adjunct coaches, and to assist the marketing and fundraising for our school sports teams with the resources of teachers and alumnus.
2. Interdisciplinary cooperation for outstanding academic achievements
To encourage teachers to apply Industry-Official-University projects, and to accelerate the collaboration between departments, schools, and the government to reach higher achievement.
To strive for more partner institutions, encourage students to join exchange programs, and invite international scholars to develop international perspectives.
3. Elevation of teaching quality through cooperation
To set up regulations to encourage teachers to participate in teacher training courses, apply related projects to elevate the quality of teaching and professional abilities.
To integrate resources from departments to improve students' competiveness in the job market by holding related activities and gaining more internship opportunities.
4. Reinforcement of College characteristics through consensus building
To assist our departments to win more on- and off-campus resources to develop their own characteristics.
To have regular meetings and activities to build up the consensus between all the members in the College to foster the uniqueness.